11 May 2022
Press Release
---
Anderes Fourdy Events officially begins operations in Penang with the aim to further grow the destination's Business Events market share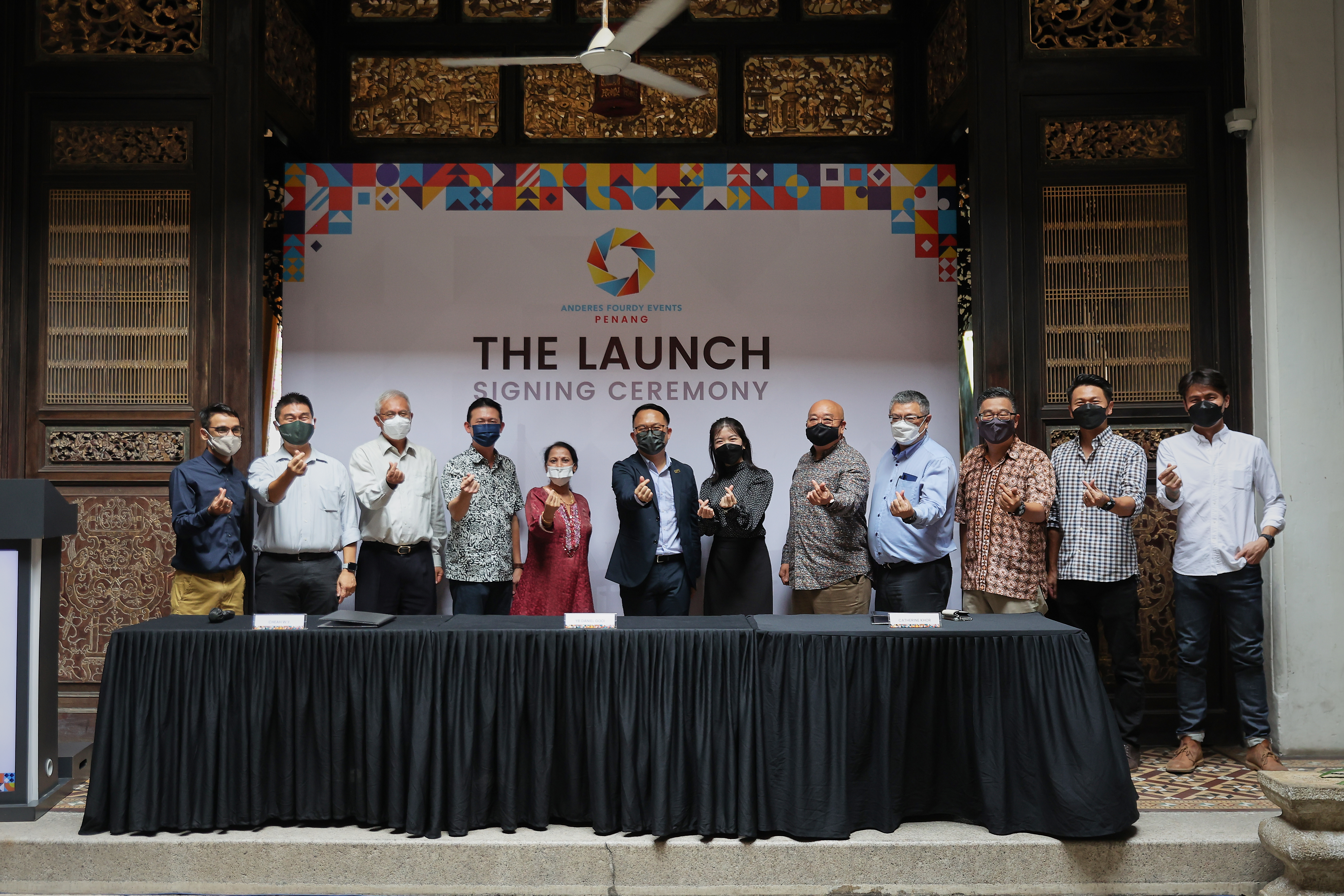 Georgetown, Penang – Malaysia's top Professional Congress Organiser (PCO), Anderes Fourdy Events, has expanded its business to Penang through a partnership with Dreamz Productions Events Management Sdn Bhd to form Anderes Fourdy Events (Penang) Sdn Bhd.
At the signing ceremony at Cheong Fatt Tze - The Blue Mansion, Ms Catherine Khor of Anderes Fourdy Events Sdn Bhd and Mr Cheah WY of Dreamz Productions Events Management Sdn Bhd both exchanged documents of collaboration and shareholder's agreement forming up a Professional Congress Organiser (PCO).
Anderes Fourdy Events (AFE) is a fully homegrown Malaysian PCO that has in its 8 years, expanded its operations into Singapore and Australia. AFE's portfolio of high-profile international congresses include many medical health and health sciences congresses such as the World Congress of Nephrology, World Congress of Enterostomal Therapist, Asia Pacific Endo-laparoscopic Surgeon's Congress and the World Urban Forum in Kuala Lumpur in 2018.
"We are very confident to partner Cheah and his team, who are committed to deliver our projects, namely the Asia Pacific Hernia Society Congress 2023 and International Advertising Association Congress 2023. Cheah and I will be working very closely to bring in more international congress into Penang," said Catherine, a Penangite from Bukit Mertajam and now based in AFE Kuala Lumpur.
"With our close-knitted partnership, we are able to share and transfer expertise knowledge as well as industry insights. Together with Catherine and the team, I am committed to seeing through that Penang continues to thrive in the Business Events market with competitive and professional services," said Cheah, Penang's first and only internationally-recognised Certified Meeting Professional (CMP) who is also the founder and director of Dreamz Productions Events Management Sdn Bhd which is the market leader in the events industry in Penang – catering to the corporate and government clientele.
Also present at the signing ceremony were the founders of AFE, Mr Fu Kei Cheong and Mr Rahul Bharadwaj. "It was a very quick decision between us and Cheah (to form the company). The chemistry is there and we knew we had to do something together to quickly bring Penang to the international centre-stage by showing results Penang can be proud of," said Rahul.
For more information on Anderes Fourdy Events (Penang) Sdn Bhd, visit www.anderesfourdy.com or contact Cheah WY at cheah@anderesfourdy.events or +60 19-478 8232.
***
About Anderes Fourdy Events Sdn Bhd
Anderes Fourdy Events (AFE) was established in 2013 by two partners who had an eye and a passion for technology and events. AFE received its MSC Malaysia status in 2014, and is today Malaysia's leading PCO. Driven with deep-rooted passionate experience, Anderes Fourdy surpass most PCO's key competencies with a desire in representing the client's best interest, delivering successful and impactful face-to-face congresses and offering the best international industry practices. Their own congress technology further enhance and realise the full potential of the congresses.
In 2018, AFE won the Emerging Innovator Award by the Malaysia Commercialisation Year (MCY) 2018 and was dubbed as Malaysia's Most Innovative Company 2018. AFE is a pioneer Congress and Exhibition Technology in the Malaysian scene.
About Dreamz Productions Events Management Sdn Bhd
DREAMZ was established in 2007 as a Penang-based events management company that provides one-stop solution services from creative content and design to marketing solutions, productions and professional events and exhibition management. Led by the visionary and strong leadership team, DREAMZ consistently delivers results that surpasses clients' expectations.
In 2012, DREAMZ expanded its presence to Klang Valley with the opening of its KL branch office and has since continued to grow its client base and professional services to be the leading events & exhibition management agency in the country.